In collaboration with
JOSÉ RESENDIZ
Arts & Architecture
, a trade magazine originally published during postwar American modernism, is reimagined into an iPad app that acts as an informative index of the publication-sponsored Case Study House Program that speaks to the aesthetic of the original magazine and presents the most pertinent information in the least complicated way. This speculative digital publication app was created in an elective course dealing with translating collections of work from page to screen using the possibilities of tablet architecture to strategize and configure an interactive structure.
Known for its significant cultural contributions,
Arts & Architecture
covered a spectrum of sub-disciplines from fine and applied arts to industrial design to architecture and maintained a high standard of graphic design. The Case Study House Program (1945–1966) was a series of 36 experiments in American residential architecture sponsored by the magazine. TASCHEN's facsimile edition of the seminal journal consists of ten years' worth of content (1945–1954), contains a total of 118 issues, and served as the base collection for the project. Supplemental elements include photographs by Julius Shulman, Virtual House Plans by
ArchDaily
, The Case Study House Map of Los Angeles by Adrian Click Kudler of
Curbed Los Angeles
, and the Case Study House Index by
Arts & Architecture Online
.
The overarching goal of the project was to categorize the Case Study House Program into a logical format—supplemented by other relevant content from the magazine—as a unified structure to fully comprehend the richness of each case study. We aimed to narrow the identification options to a few major sections so that the whole range of information per Case Study is easily comparable, present the ability to organize and browse cases based on filtering options, supply additional photos and video that are significant, and offer the option to see complete Case Study content in the original structure of the magazine.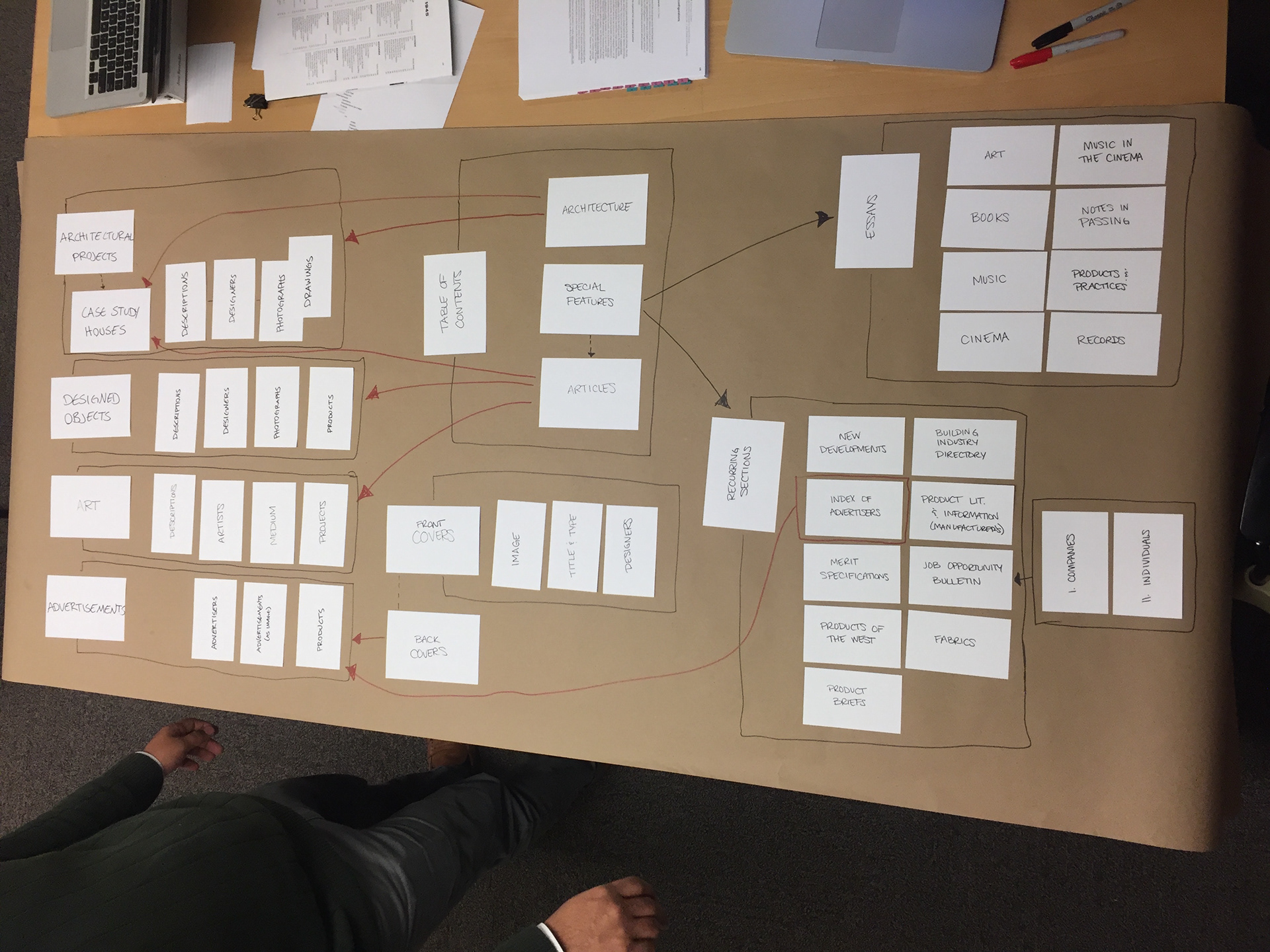 This project was a collaborative effort with José Resendiz under the instruction of Stephen Farrell and Geoffrey Alan Rhodes at the School of the Art Institute of Chicago.
Access to the TASCHEN facsimile edition of Arts & Architecture was provided by the Visual Communication Design department's Resource Center at the School of the Art Institute of Chicago.
Pacheco and Resendiz do not own supplemental images pertaining to the project process or final presentation, including but not limited to: photographs of architectural projects, architectural drawings, article copy, any images or reproductions of magazine covers owned by Arts & Architecture Magazine or TASCHEN, or any images and copy owned/retained by Arts & Architecture Magazine. The Futura typeface family was licensed for educational use through the School of the Art Institute of Chicago.
All other images, original design elements, and combinations of elements constituting an original design are owned by Pacheco and Resendiz.