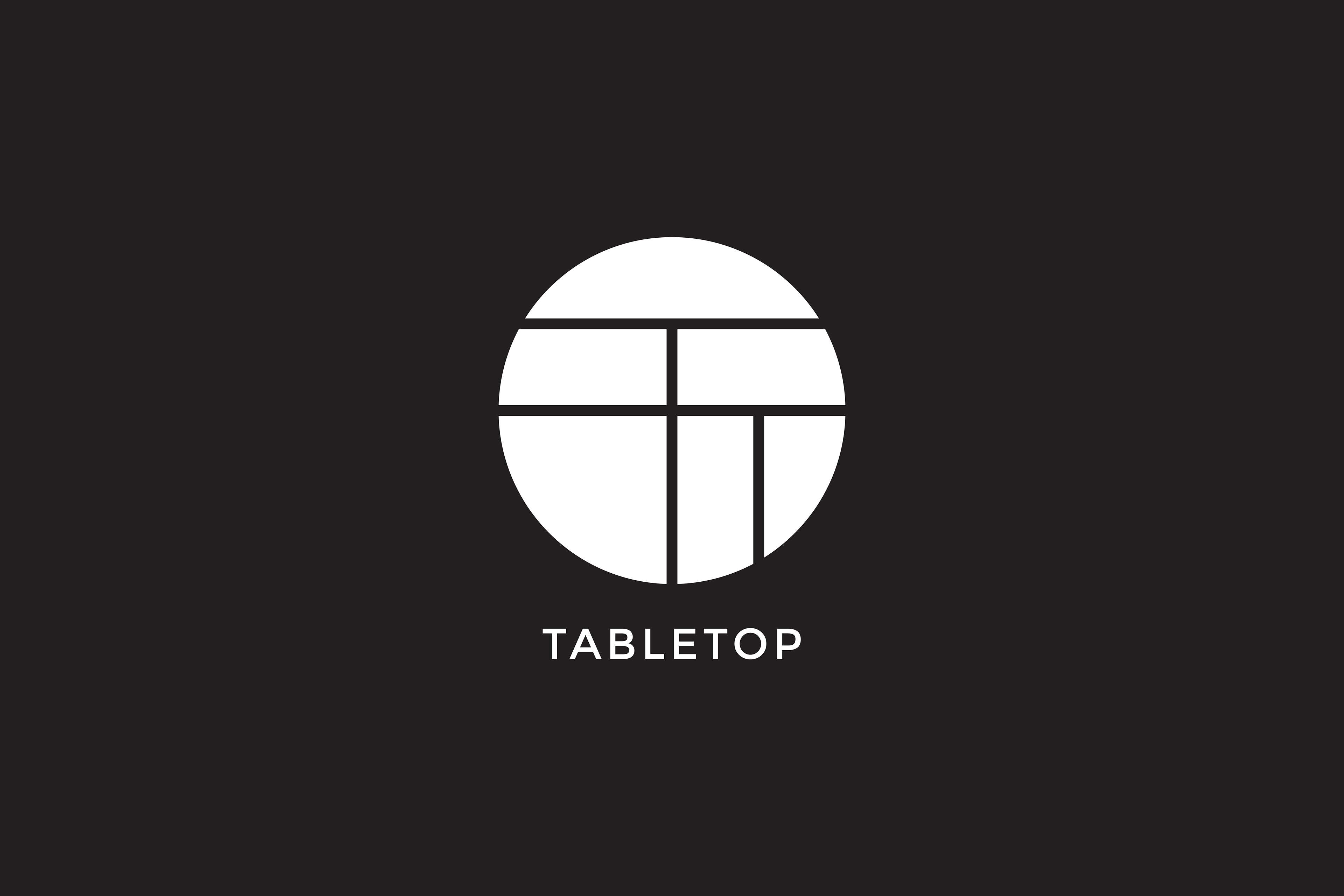 Tabletop
was the result of a group project prompt to develop and design an identity for a speculative studio/firm that specialized in print, publication, and branding + identity. Our concept was a collaborative design studio that catered to food and drink businesses with an interdisciplinary approach, given that each member of the real-life group had differing backgrounds and skills that contributed to the conceptualization of the project. The final deliverables consisted of a logo design, brief identity graphic standards, a stationery set, and a company brochure.
The mission statement developed for
Tabletop
is as follows:
Tabletop is a Chicago-based collaborative design studio and consultancy specializing in creating enticing and effective visuals for food and drink businesses. We concentrate on print production, publication design, and branding + identity; however, we offer a plethora of services ranging from packaging to illustration to interior design, achieving total experiences.

Tabletop was founded on the principles of cohesiveness, unity, honesty, and collaboration. We work with each of our clients one-on-one in order to stay focused and remain true to the essence of our clients' needs—we love helping them communicate their narratives. This reflects in our work and design ethics by demonstrating passion and personal commitment in everything we do.

Tabletop is owned and operated by four friends and partners who each bring a unique design approach to the table.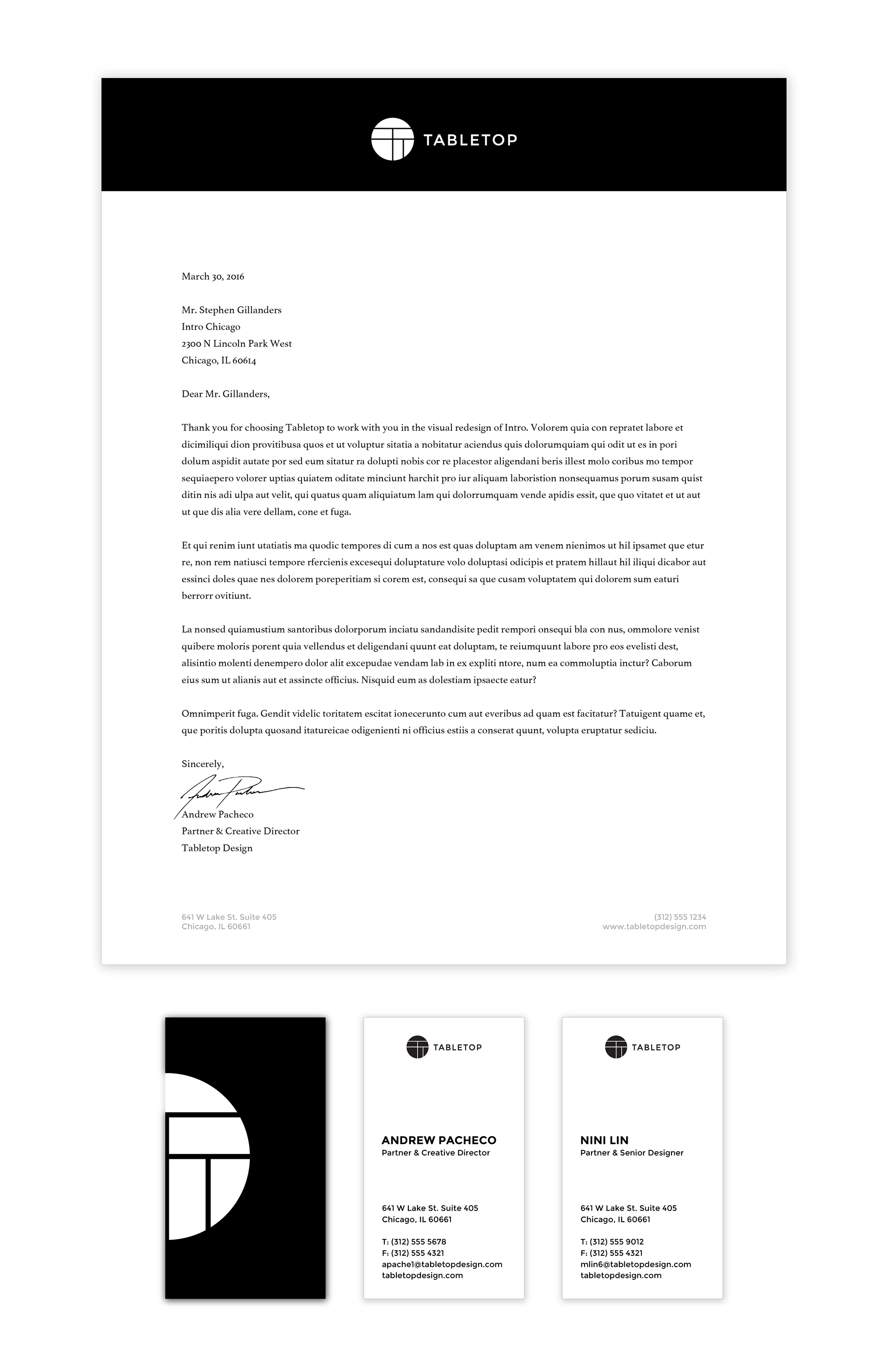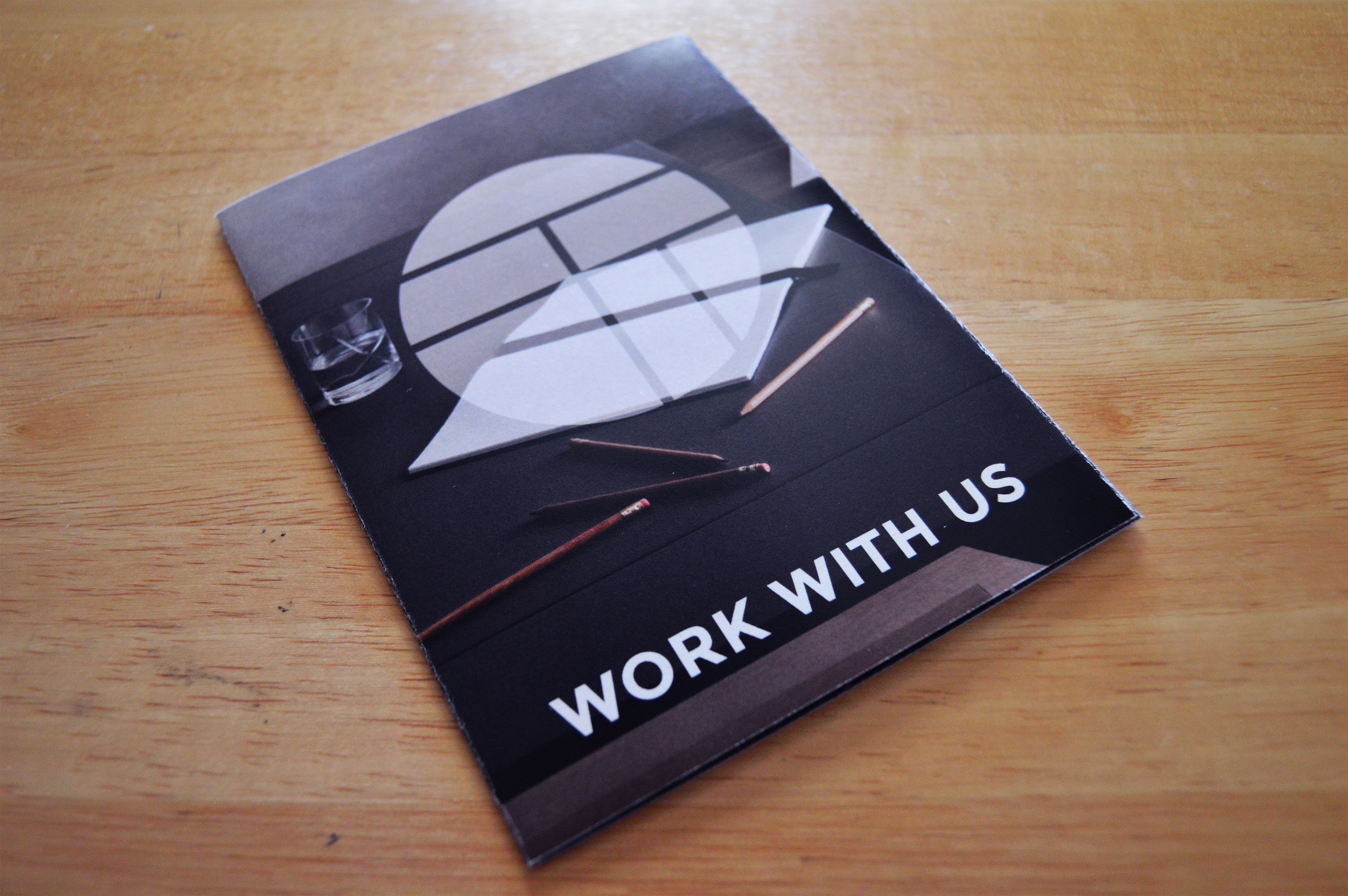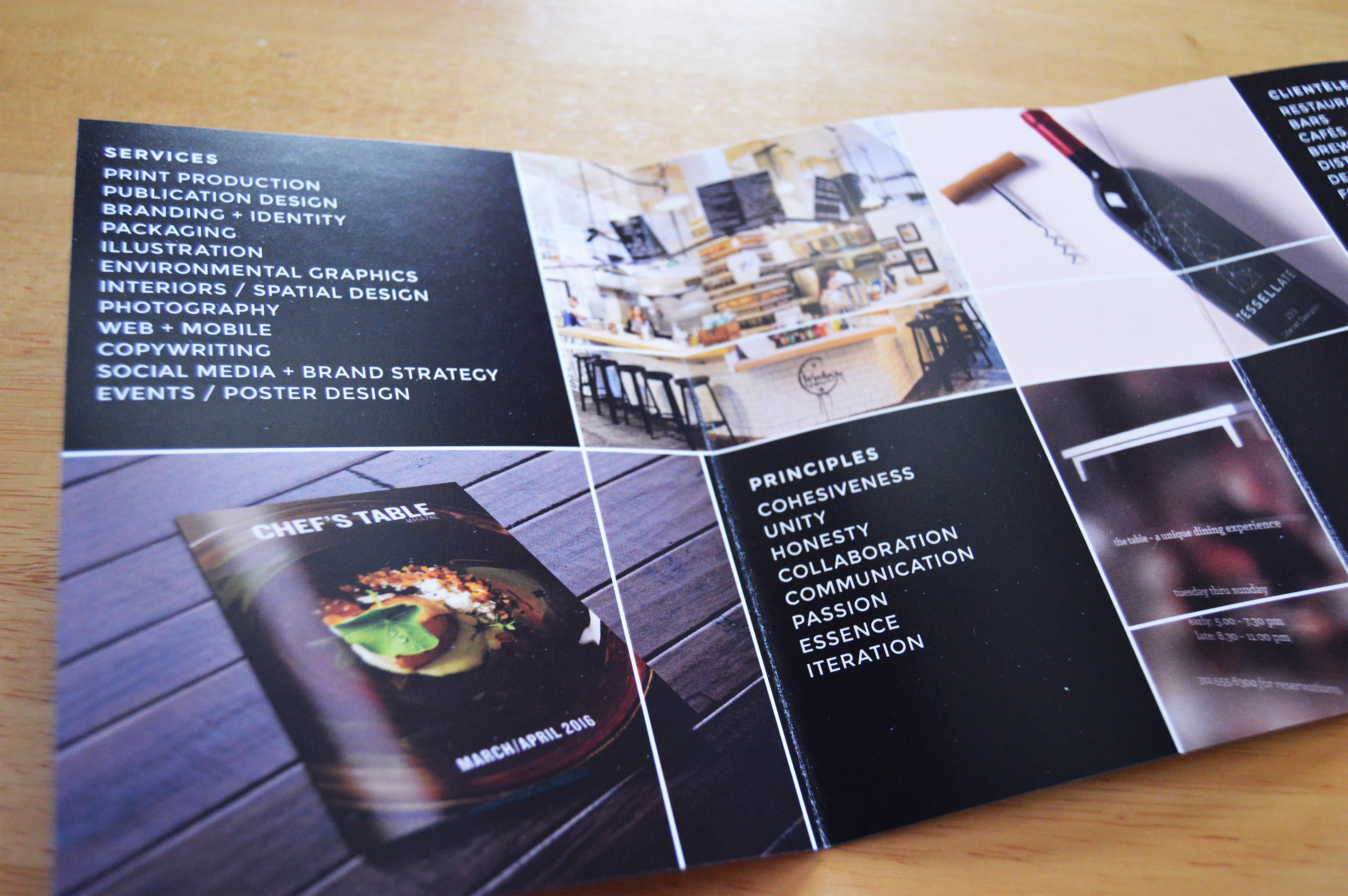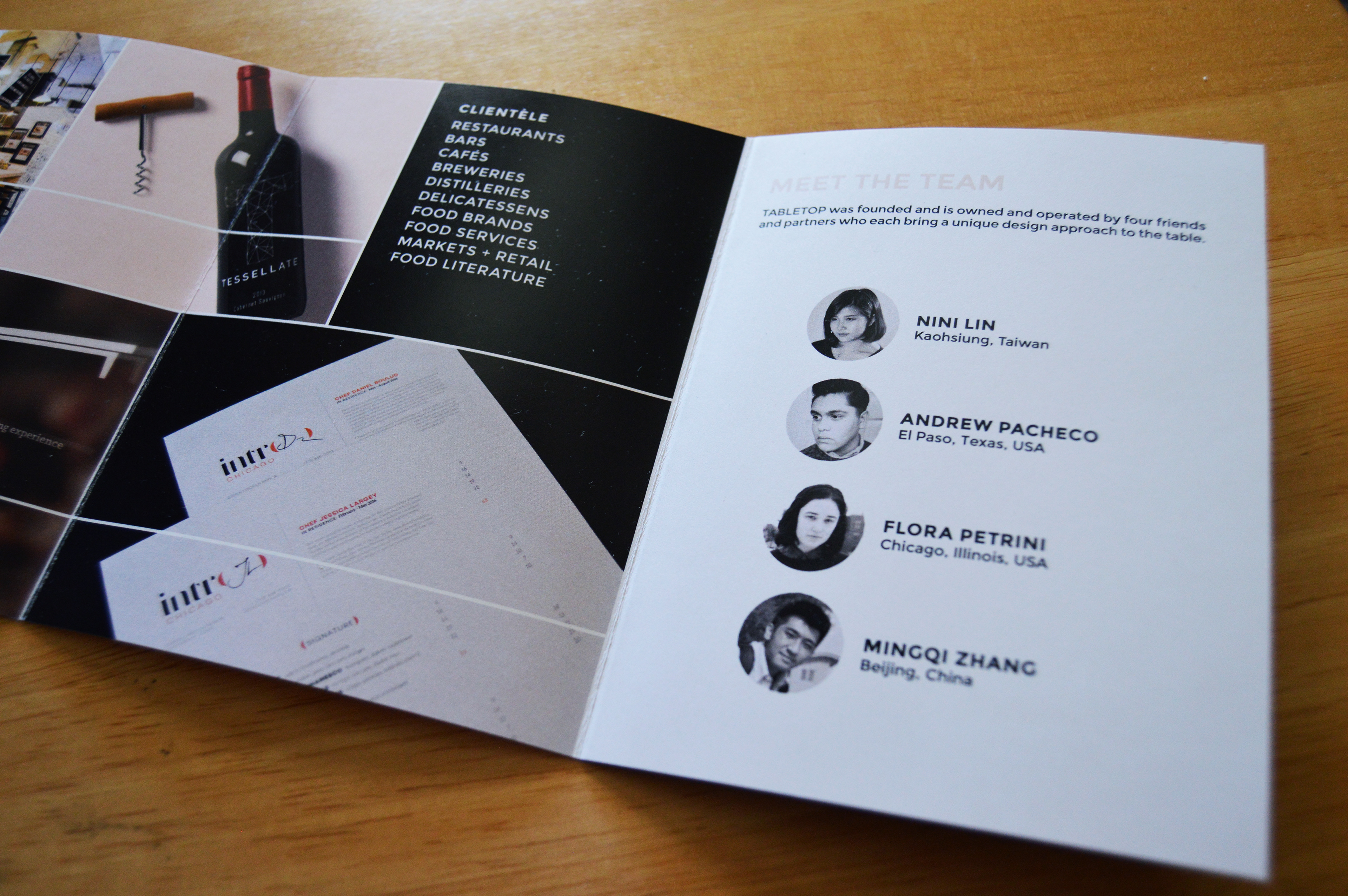 This project was a conceptual collaborative effort with Nini Lin, Flora Petrini, and Mingqi Zhang under the instruction of Alex Laurie Valentine III at the School of the Art Institute of Chicago.
Stationery design by Nini Lin with modifications by Andrew Pacheco. 
All other work shown produced by Andrew Pacheco.
Lin, Pacheco, Petrini, and Zhang do not own any supplemental images pertaining to the project process or final presentation, including but not limited to: photography of interiors or Photoshop mock-up files produced by other designers. The Gotham typeface family was licensed for educational use through the School of the Art Institute of Chicago.
All other images, original design elements, and combinations of elements constituting an original design are owned by Lin, Pacheco, Petrini, and Zhang.